Over the summer I went grocery shopping with one of my best friends.  With a family of four her grocery shopping trips are never quick or easy.  We ended up spending over 2 hours getting groceries for her family between two stores.  Her grocery bill for a month is more than what I pay for in a month.  It made me remember a distant time when I would shop with my mom and she'd spend $200-$3oo for groceries that lasted a month, plus a weekly trip for odds and ends, so another $100.  $300-400 a month on groceries?  Ouch.  I started living on my own when I started college, but since I was on a meal plan I wouldn't pay out of pocket until later ($3500 a year?  EW!)  Now that I live on my own and stick to a budget, I really cringe at that amount.  Why?  Because I only spend $100-$120 a month on groceries.
.
An important disclaimer, I only shop for myself.  I might get snacks for my students at school, but other than that, its just me.  I eat pretty healthy too and plan my meals out in advance, so it tends to be cheaper.  It also helps we have a Kroger and Trader Joes in these parts 😉  I should count a second disclaimer in that I'm a pescatarian. Meat is expensive, but so is fish and I rarely buy it.
.
I've gotten my grocery bill down to an art because I know where to shop for the best prices, because its just me and thanks to coupons. Here's a couple of tips I offer for groceries;
.
1) Coupons!
Not in the extreme couponers way, but do look for coupons on things you use because they're pretty widely available.  Sometimes a google search can unearth one even!  I check the following places for coupons;
Manufacters websites
Grocery store websites
Coupon websites
I also subscribe to email notifications from a few websites and check weekly sales.  I probably save a good $5-10+ a week in coupons from just an hourish of searching.  Bonus tip-some companies will actually send you a free coupon if you ask for one.  Stoneyfield does this from experience and riceworks.  I've been told So Delicious does too.  Hey, it doesn't hurt!
.
2) Browse for the best prices
I've managed to go shopping and compare prices enough to know what sells what cheapest.  I do most of my shopping at Trader Joes and Kroger.  Whole Foods is a rare excursion due to prices as is The Fresh Market.  I'll go to Martins if I'm in the area and on rare occasions, I might snag something at Super Target or Walmart.  Prices vary alot just like coupons.
.
 (Chocolate peanut butter cheesecake)
3) Make what you can
It might be a common sense one, but some things are really that easy to make, even crackers.  I make my own waffles from scratch and I spend maybe $1.50 (big maybe!)  worth of ingredients to make 6 waffles that would have cost me $2.50+ in the store.  My favorite vegetable chili that lasts a good 5-6+ meals (HUGE pot) costs around $3 to make.  The savings really add up when you make things yourself.
.
4) Pay attention to what you're buying
When you go to the grocery store, how much are you spending and on what?  Do you just grab a bag of what looks good?  Think about brands, the nutritional value and cost.
.
5) Go shopping with a plan
It's one thing everyone says and for a reason.  Go with a list!  That way you'll be less likely to miss something and by sticking to it you'll be less likely to grab something not on your list.  Plus it makes meal planning easier.  I always try to have meals in mind and a few recipes to do for the week.
.
6) Stock up when the getting is good
If you see a sale going on for something you buy, non-perishable, stock up!  There is an organic brand of beans I get that go on sale at martins for $1 can as opposed to $1.29 every couple of months.  I stock up, save money and don't have to worry about getting it at the grocery store later.  Keep an eye out for flours, baking indreidents, pastas etc-especially when a coupon is available!
.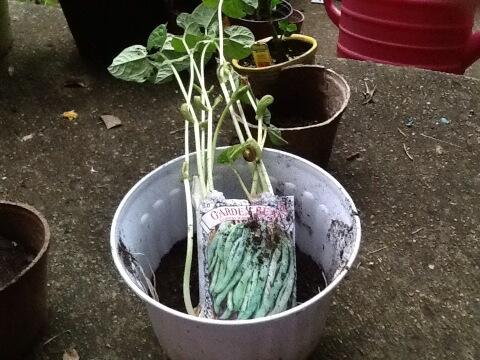 7)  Plant a garden
I started my own garden this summer and it was fairly inexpensive.  I recieved the seeds free as a gift and the only extra expense I had were the starter pots ($5 for 10) , the bigger pots ($10) and soil ($8). I have a ton of plants growing, so I'll be saving a good $30+ in vegetables during the summer!  Now if I had my own house, the soil and pots wouldn't be needed, so unless you're doing an urban garden you could be saving even more!
BONUS:  Get vegetables from friends, family and coworkers with an abundance of vegetables!
.
.
Those are my little tips for grocery shopping.  I know the typical person won't spend what I do, but I've found what works for me.  What tips would you offer?